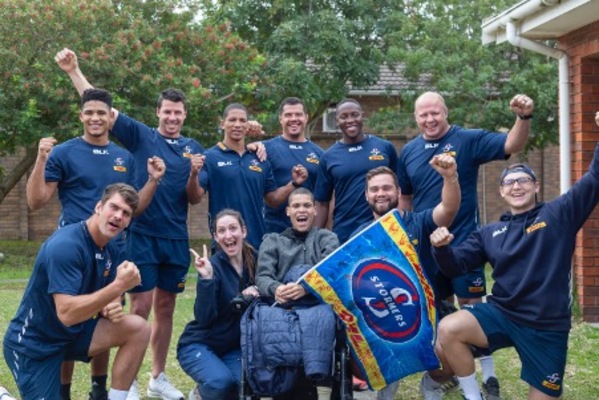 Stormers visit Nurture Health to inspire young rugby player after spinal cord injury
2 August 2023
"My therapists encouraged me, and I knew it would benefit me."
A rugby tackle gone wrong left 18-year-old Devon Bosman with a severe spinal cord injury.
It was a devastating blow.
However, news of the young rugby player's condition reached the Chris Burger Players Fund which quickly arranged Devon's transfer to Aurora rehabilitation centre for medical treatment.

Nurture Health Aurora became Devon's haven, where a 12-week physical rehabilitation programme lay ahead.
Once there, a dedicated team of healthcare specialists educated him on his injury, working tirelessly to optimise movement and the ability to perform self-care tasks using adaptive methods and assistive devices.
"When I arrived at Aurora, I wasn't able to do anything for myself. They supported me a lot and gave me the courage to go on every day," says the young cabinetmaker from Humansdorp in the Eastern Cape.
"It was a massive setback from playing rugby to being in a wheelchair. I still have my off days when I feel like 'why me?'.
"It was very tough, and I just had to take it day by day. I would set goals and know that things would get better."
With limited arm, and no leg, movement, Devon had to learn how to eat, brush his teeth, and dress himself all over again. Injury rehab included learning how to sit without support, as well as how to transfer into a wheelchair and propel himself.
Rugby stars visit Devon at Nurture Health
Inspiration along the way has included a squad of Stormers rugby players visiting Aurora to encourage him. Devon and his therapists also went to an exciting match between the Stormers and the Sharks.
After months of hard work and perseverance, Devon's discharge was a big day. Members of the rugby fund surprised Devon with a visit from Springbok players Canan Moodie and Scarra Ntubeni.
The sports stars helped Devon to pack and prepare for his transition to Cheshire Homes, where he will be staying while his home becomes wheelchair accessible.

Physical therapy in the gym was a plus during his time at Aurora, says Devon: "my therapists encouraged me, and I knew it would benefit me.
"The highlight was the day I drove around in the power wheelchair for the first time. But now I am in an active wheelchair, and I am seeing the benefits of my rehabilitation as I can push myself around."
There also have been low moments when Devon can't achieve something he wants or needs to do.
"A few weeks later I improve though and can do it. I had to always fix my eyes on the next target."
Looking ahead, the brave youngster aims to build a career and make a success of his life.
"I want to be financially independent, and getting my matric and degree is really important. I am trying to achieve that goal in the next five years."
He has advice for others in an acute or physical rehabilitation hospital: "I know the situation and it isn't easy but try your best.
"I want to show the world what disability is and make a difference."