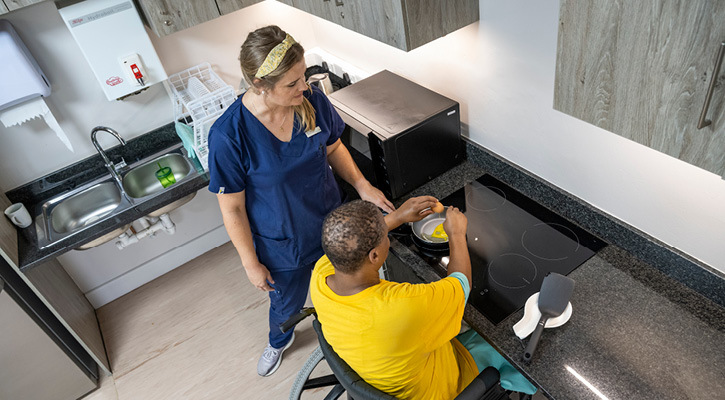 Preparing your home for living with a disability
5 July 2023
"If there is a way, we'll find it"
The caring does not stop with your discharge from a Nurture Health hospital.
This is especially true if you are heading home after medical treatment at a rehabilitation centre and need to adapt your living space.
Nurture Health occupational therapist Deidre Kershaw spells out the process of preparing a home for life with a disability.
"Our number one goal is to have you return to your own environment, and your own home, wherever possible," she says.
"We aim to make it possible for people to live a meaningful and fulfilled life despite the physical or mental challenges that they have now."
However, many homes are not accessible for someone in a wheelchair or other physical disability.
In addition, rehabilitation equipment, or setting your home up for home nursing, can be costly. In these cases, the healthcare specialists at Nurture Health will explore budget-friendly assistive devices.
"An occupational therapist will look at what we can do, affordably and safely," says Kershaw. "We look at what support structure you have, and what your home is like so that we can make recommendations."
Practical tips
If the patient's home is close to a Nurture Facility, the therapist may conduct a home visit.
"Then we look at, for example, the width of your corridors, the kind of flooring, lighting, height of the toilet, and so much more. It's part of our service."
Kershaw listed a few simple changes that could make a difference:
• Lift loose mats
• Tuck trailing wires and cords out of the way
• Install grab rails in the bathroom
If you want to install a wheelchair ramp, make sure the incline is user-friendly.
Modifying a home for a visually impaired person may mean enlarging the lettering on the stove controls, while someone with a hearing impairment may need a flashing light on the doorbell to alert them to a visitor.
"We want to reduce the risk of further complications, and promote further independence," she says.
"Our patient-centred approach is what makes Nurture Health so special, as we focus on the needs of the individual patient, and each case is unique.
"We want to get them to return to a level of functioning and independence and way of life that is as close as possible to what it was before this catastrophic event."
Even before being admitted to one of Nurture's rehabilitation centres, the healthcare team will build up a holistic picture of who the patient is and what they may need on discharge.
"We ask where the person is going, what it looks like, and what we need to do to make sure that they can do that. Everything is tailored around that.
"As we say at Nurture Health, 'if there is a way, we'll find it'."
• Find out more at your nearest Nurture Health facility.