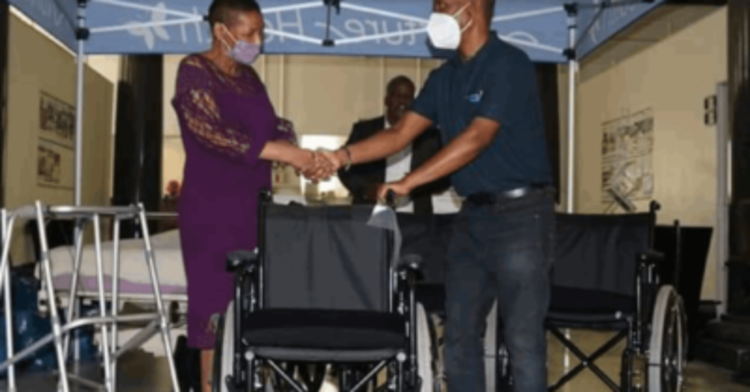 MEC Qabathe Receives A Donation Of Much Needed Items For People With Disabilities From Nurture Health
15 February 2022
The day marked a special day in the Free State Department of Social Development. A day that came as a result of the MEC MG "Mamiki" Qabathe reaching out to the Free State communities as part of her Local Government Elections awareness door to door campaign.
On such a campaign, she met the community of who highlighted the need for care of people with disabilities as well as bedridden frail family members. Mr Xolile Yawa, from Nurture Health, offered to assist through his organisation. Nurture Health Physical Rehabilitation Hospitals provide medical care and acute/sub-acute rehabilitation treatment for people with a wide range of disabilities caused by disease and illness.
The MEC for Social Development in the Free State "Mamiki" Qabathe together with the Acting Head of Department Adv. TJ Phahlo and departmental senior management, received donations from Nurture Health Group that will go a long way to alleviate the plight of people with disabilities as well as the frail. The donations included 40 hospital beds, bed linen, 11 wheelchairs, 2 walkers, reception counter and desk, 30 chairs and 5 tables and a bedside locker.
The MEC expressed her heartfelt appreciation for this gesture, which comes at a day that commemorates 32 years since our Icon for Nation Building; the late President Nelson Mandela was released from jail.
The MEC implored on Nurture Health partners to work hand in hand with the Department in its programmes that it is mandated to render in the Free State communities.
The first beneficiaries of the donations were present to receive their much needed wheelchairs. These will go a long way in ensuring that they are able to move around more comfortably.
The Department wishes to thank Nurture Health for their donation and call for more organisations and individuals to follow suit. There is a need for such partnerships in order to answer the call made by the President in his State of the Nation Address 2022 for a new consensus that is born out of a common understanding and recognition of the need to address the challenges of poverty and inequality.
Working together to build the Free State we want!