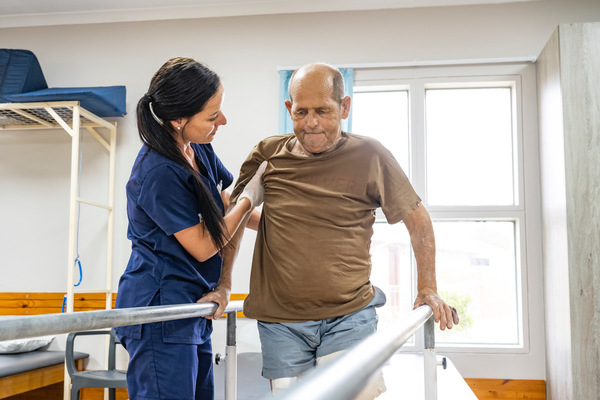 Protecting and cherishing our elderly loved ones
12 June 2023
It's not only relatives and loved ones who care for and cherish older members of the family, at Nurture Health there is a strong focus on taking care of this often vulnerable group.
With World Elder Abuse Awareness Day on 15 June, Nurture Health is committed to sharing education on how to protect the elderly.
Elder abuse is an act, or lack of appropriate action, within a relationship where trust is expected but instead causes harm or distress to an older person.
Nurture Health Ilembe social worker Kaishiree Delomoney spells out the patient-centred ethos.
"Our patient comes first, whether they are a child or an aging adult, they are the core and the focus.
"However, we do generally have an older population admitted, and many elderly patients are with us for stroke recovery.
"We raise awareness to build insights in our patients and their families on what the rights of the elderly are, and how we should be protecting them within the community, and in care homes."
This includes monthly outreach programmes that help the elderly to live in safety and with dignity.
Sadly, Delomoney says, family members also sometimes try to take financial advantage of their relatives while they are in a mentally confused or vulnerable state.
They may, for example, try to sell their car or home – which is illegal, she warns.
Relatives, or any interested party, need to have Power of Attorney in place to sign over assets such as property or vehicles. Failing this, the court may be approached for a Curatorship.
"We try to protect these patients and advise and educate them as much as possible," says Delomoney.
She outlines how the inter-disciplinary team (IDT) approach at Nurture Health of medical doctor, nursing sister, occupational therapist, physical therapist, speech therapist, dietitian and social worker works.
"They each have a role to play in terms of getting the patient integrated back to their previous level of functioning as far as possible."
Hence patients do not only receive medical treatment, as Nurture Health also provides a discharge plan when they leave any of the rehabilitation centres across the country.
"Our seniors come with a wealth of knowledge and wisdom yet so often they are the forgotten part of society," says Delomoney.
"Many have children who are living overseas and they may be left alone, or in the hands of total strangers.
"At Nurture Health, we must ensure that we are discharging that person back into a safe environment, mobilising the community to see how best we can help."
After all, putting the patient first – whether young or old – is at the heart of all medical care offered by Nurture Health.