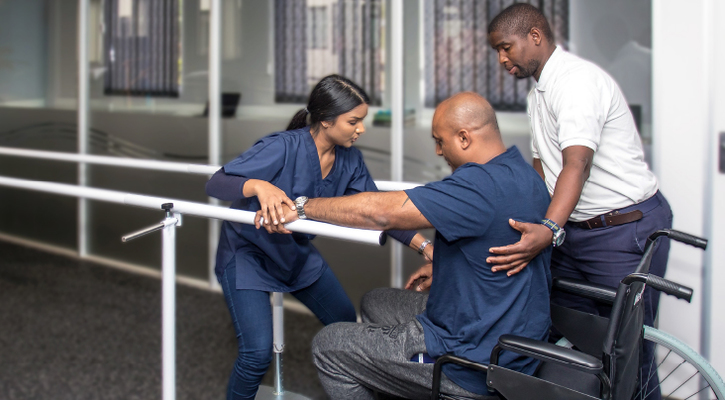 Occupational Therapy
27 October 2023
Here's how our occupational therapists can help
Occupational therapy – often shortened to OT – is a key part of the extensive range of medical care services offered at Nurture Health rehabilitation centres.
And Occupational Therapy Day, on 27 October 2023, is a date to celebrate just what this profession does.
Although "occupation" is usually a job or career, in OT it means the daily activities that many of us take for granted, such as getting up out of bed, brushing our teeth or simply moving around.
If an injury, disability, illness or pain affects our ability to do these – and numerous other, often more complex tasks – then the highly trained healthcare specialists at Nurture Health can help.
"Occupational therapists holistically assess and treat patients," says Kirstin McLaggan, rehabilitation programme manager at Nurture Aurora in Gqeberha.
An OT will look at cognitive skills such as being able to follow instructions, plan how to execute a task, and then concentrate on completing that task.
"Occupational therapy aims to understand who the patient is as a person and what is important to them," says McLaggan.
Once they know more of the patient's life, they then integrate aspects such as returning to work, or taking part in hobbies, into the medical treatment programme.
Where physical therapy manages physical pain and improves movement, occupational therapy looks to improve functions associated with that pain or impaired movement. Physical rehabilitation often calls for both.
It's rewarding to hear the success stories of injury rehab.
For example, says McLaggan, the healthcare specialists treated a security company technician who lost his leg after being hit by a car.
OT helped this patient, in his early 30s, to become independent again.
The amputation was traumatic, especially as he was the father of a young child and had to spend time in a wheelchair while waiting for a prosthetic limb.
Later, when he obtained his rehabilitation equipment, OT helped him with new activities, such as getting down onto the floor to play with his child.
It also helped him with tasks around the home such as cooking, cleaning and getting his little one dressed and ready for the day.
When it came to going back to work, which called for him to climb ladders and drive a car, OT also taught him how to do this.
"We worked with the patient to ensure that he could obtain an optimal quality of life and was able to return to as many previous life roles as possible," says McLaggan.
This is one example while, in other cases, OT might help with stroke recovery or cognitive rehabilitation, in the acute care phase or later via out-patient services or home nursing.
It ties in with the theme for 2023 of "Unity through Community", which highlights how OTs work, together, with others to help individuals and society.
Their caring, hands-on approach can make all the difference!